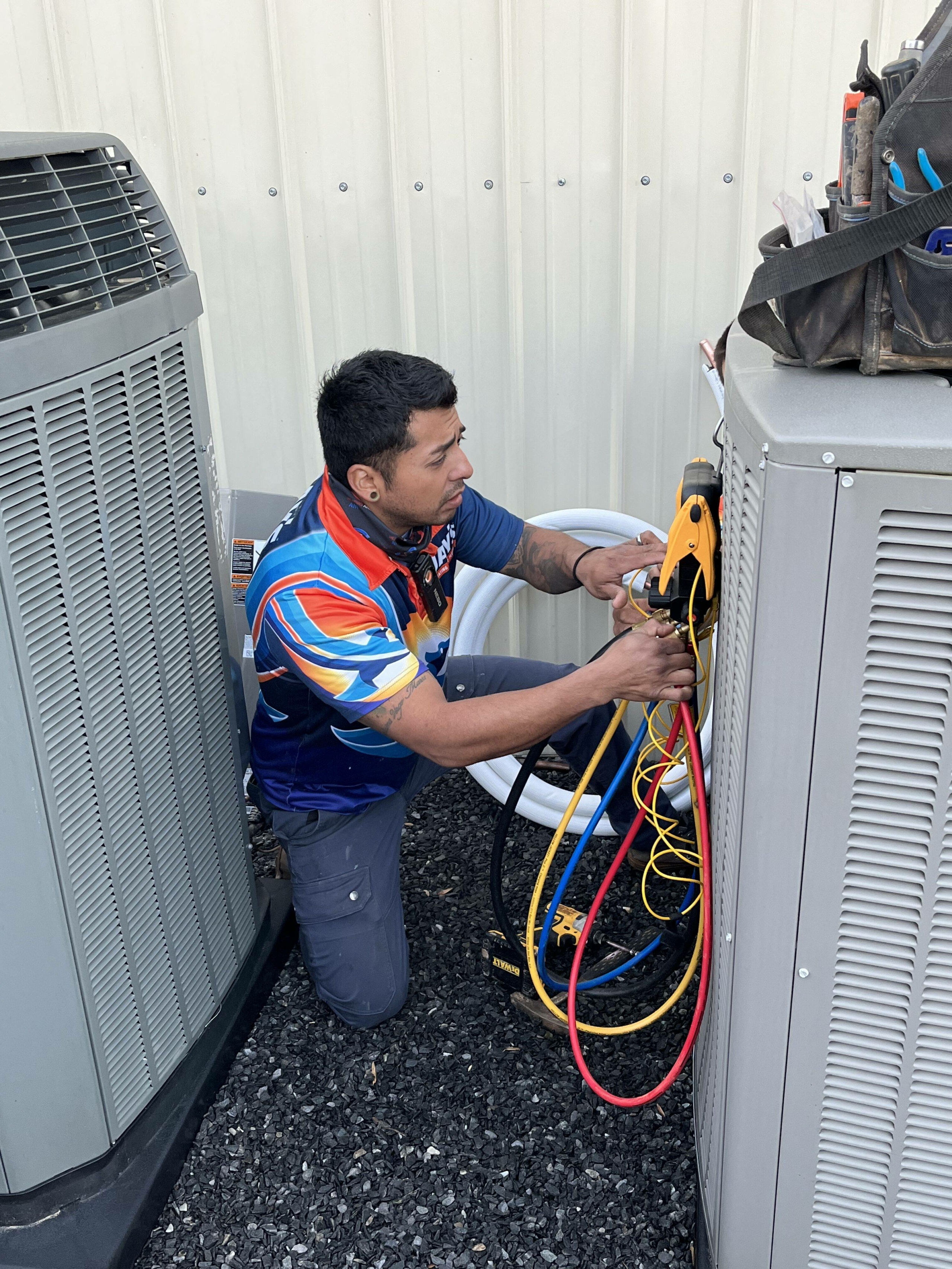 If you want to keep your household cool and comfortable during the scorching summer, scheduling AC maintenance in High Point, NC is an excellent place to start. Ideally, you should invest in a professional AC tune-up every year if you want to keep your cooling system in tiptop condition. Whenever your air conditioner is running, the equipment is accumulating wear and tear. Eventually, that mileage will catch up with the appliance, which will result in its performance, efficiency, and health declining. However, AC maintenance goes a long way towards counteracting that natural deterioration and keeping the system operating smoothly.
Why Schedule an AC Tune-Up?
When you enlist Jay's Heating, Air & Plumbing to handle your AC tune-up, one of our qualified cooling professionals will do everything possible to improve the system's performance. They'll make beneficial tweaks and adjustments, clean the dust and dirt from the appliance, and conduct a thorough inspection. These actions will have several positive effects on the way your household operates and allow you to have a pleasant, low-stress summer.
Part of what causes air conditioners to decline over time is the buildup of dust, debris, and various other contaminants. As all of that grime accumulates in and around the AC unit, it will make it harder for the system to effectively do its job, leading to a worsened cooling performance and increased energy usage. Additionally, many of those pollutants will get cycled into the air that you and your family breathe. By giving your air conditioner a comprehensive cleaning, our AC company professionals will help you avoid these issues.
Homeowners who stay on top of yearly maintenance typically get to enjoy several or all of the following household improvements:
More consistent comfort
Lower energy costs
Better air quality
Fewer necessary AC repairs
Longer AC life expectancy
Having your AC unit experience a malfunction or breakdown can be extremely frustrating, but regular maintenance will greatly reduce the odds of those issues. Your hired technician will carefully examine the appliance, and if they notice anything suspicious or worrisome, they'll let you know. Then, in many cases, you'll be able to nip the problem in the bud with a minor fix, rather than being surprised later on with a serious equipment failure. As a result, you save money and avoid quite a bit of stress.
AC Maintenance in High Point
When you're coming home from a fun day out at Gibson Park this summer, we at Jay's Heating, Air & Plumbing want you to be greeted by a comfortable house. When you work with us for your cooling needs, you'll receive exceptional customer service, competitive prices, and a satisfaction guarantee with every job. Our friendly technicians are NATE-certified and can service all makes and models of cooling systems.
Give our team from Jay's Heating, Air & Plumbing a call today if you'd like to schedule an appointment for AC maintenance in High Point! We can also help with AC repair and installation.
Ready to schedule your heating tune-up? Call us during the fall season to schedule your annual furnace maintenance!