If you need a reliable partner to turn to for AC repair in Clemmons, NC, don't hesitate to reach out to Jay's Heating, Air & Plumbing. Our technicians have access to innovative tools and extensive training to keep your AC running at peak performance. Surry County tends to be hot and humid for a significant part of the year.
You rely on your efficient air conditioner to make your home an oasis of comfort year-round. However, your air conditioner can fail due to normal wear and tear, leaking refrigerant, worn-out parts, and a faulty breaker. Regardless of your AC issue, our technicians are ready to offer a helping hand with all your AC service needs.
Premier AC Service Team
An effective air conditioning unit maintains optimal humidity and temperature levels in your Clemmons home. It works by transferring the unwanted humidity and heat outside and returning cool air to your house. Your air conditioner has several components. The operator coil, condenser coil, compressor, and refrigerant work together to maintain optimal temperatures and humidity levels.
Unfortunately, these components can fail due to a lack of regular maintenance or regular wear and tear. Frost and ice can also lead to a frozen evaporator or condenser coil. Signs of a failing AC unit are pretty obvious.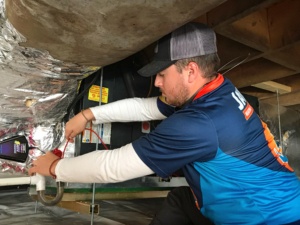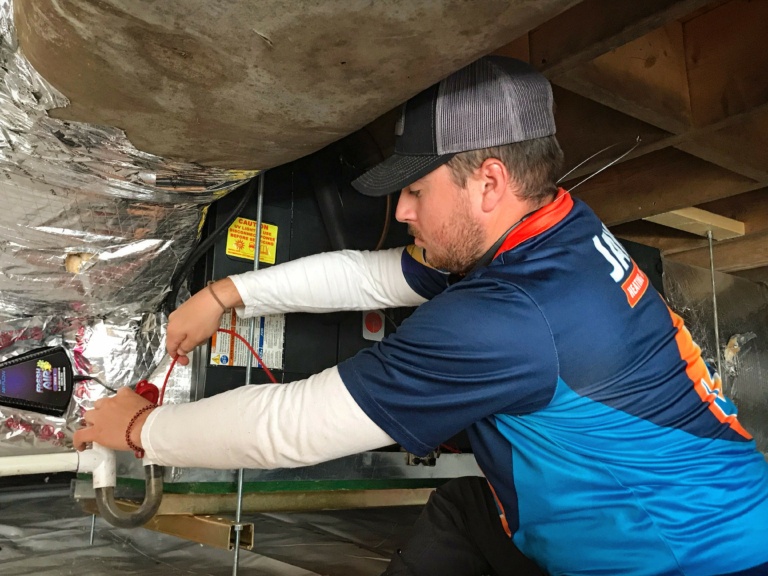 Call our highly trained technicians if you notice these signs of a failing AC system:

Blowing warm air
Loud and unusual sounds
Weird odors
Spike in energy bills
Weak airflow
Your AC might be producing weak airflow due to a clogged air filter or a leaky air duct. Ignoring these issues can lead to larger problems. It can also result in costly repairs down the line. That's why you should contact our technicians right away to prevent costly repairs and safety issues. Our technicians will inspect your unit and recommend the most suitable solution to your specific needs.
Dependable AC Repair in Clemmons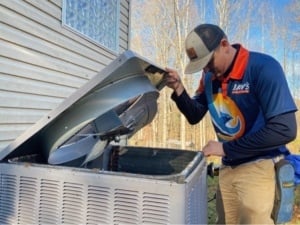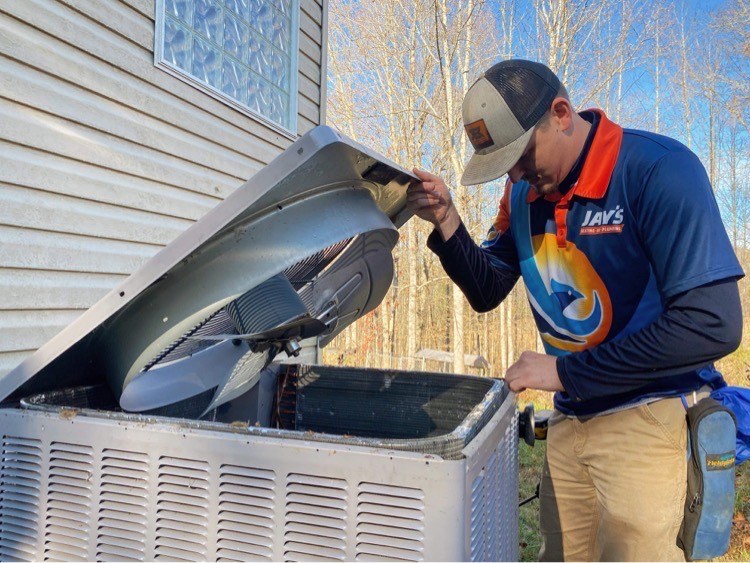 Whether your AC is struggling to cool your home or is making strange noises, our highly trained technicians at Jay's Heating, Air & Plumbing are standing by to solve any of your AC service needs. We have premier AC repair in Clemmons and the surrounding areas. Residents in this area trust our NATE-certified technicians to get the job done right the first time. Our team is just a call away, whether you are in Village Center, Clemmons North, West Bend, or any other neighborhood. We are also available for repair needs that can't wait for regular business hours.
Contact Jay's Heating, Air & Plumbing today to ask a question or schedule dependable AC repair in Clemmons. We also offer AC maintenance and installation.
Need help for your heater? We also offer expert furnace repair. Call today for service!