It's a tradition in Clemmons, NC to stroll through the Old Salem Heritage Bridge, and if you are hosting visitors you won't want them to miss this gorgeous wooden bridge even if it's wintertime and the state has already frozen over. However, you will want to make sure that your heating and air are working properly so that after your visit you can return home and warm up or cool down as needed. As a local HVAC contractor, we provide services that allow you to always count on your heater and air conditioner when you need it.
Dependable Heating and Air Repair in Clemmons
Prompt heating and air repair is the first step towards ensuring your HVAC system is always dependable within your Clemmons home. As the leading HVAC contractor in the region, our team is skilled at working on many different models and troubleshooting an array of issues. We go the extra mile to ensure we find a solution to every heating or AC issue that is plaguing our customers.
Heating and AC Installation Options in Clemons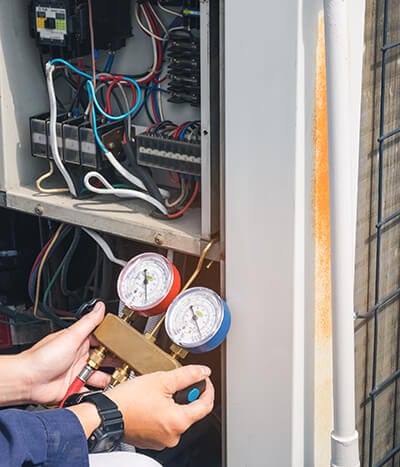 Sometimes heating and air repair is no longer a viable option. An older system that continues to break down is not always worth the investment anymore. At this point, you will want to consider heating and AC replacement, a task that we are proud to offer our customers. A technician from Jay's Heating, Air & Plumbing will come out to your Clemmons home proper for heating and air conditioning installation or replacement and measure your home so that we can order a custom fit that will serve your needs perfectly.
Reliable Heating and AC Maintenance Programs
The best way to stay ahead of any potential heating and AC issues is by booking regular heating and AC maintenance. Jay's Heating, Air & Plumbing is proud to offer heating and air maintenance programs designed to make tune-ups simple and easy for you as a homeowner. Clients who participate in our heating and AC maintenance programs also receive a discount on future repairs as a reward for preemptive service.
Heating and air maintenance can benefit your home in budget in a number of ways including:
Fewer overall heating and air repairs
Lower monthly utility bills
Improved indoor air quality
Improve the lifespan if your unit
Overall peace of mind
If you need a new HVAC contractor in Clemmons, contact Jay's Heating, Air & Plumbing for help with all of your heating and air needs!